The "Kidult" In You
SHS #001 - Tapping into millennial nostalgia is one of 2023's biggest opportunities
It's Christmas Day.
So, if you're a kid, that means you finally reached your pinnacle of toy acquisition.
For adults, it usually means you're broke at this point as you continue to play Santa. I think parents want Santa to be real more than the kids - especially during inflationary periods like this one.
But, I digress.
This draw to play and toys isn't just for whiny toddlers - it's for adults too.
In fact, there's a growing industry behind it. They even have a name: kidults.
That's right. Adults who want to go back to being kids - for a while.
Obviously, Cambridge English Dictionary even jumped on the bandwagon in 2022. Based on my Google search, this word was officially added to the lexicon on December 14, 2022. So, yes, a very new and growing trend.
As we drew closer to Christmas this past week, CNBC released a story that went further into the trend and really stoked the fires. That's how it got my attention - when I saw it on LinkedIn.
Gary Vaynerchuk, who always seems to be up on the latest trends, encouraged his Instagram followers to find ways to reach these kidults. Adults ages 35 to 65 are in on this kidult trend, so Gary is saying it's wise to find a way to incorporate them into your marketing approach in 2023.
So, how do can you take advantage of this trend with a side hustle? Well, I would say to keep it simple.
This Week's Side Hustle Tip
Here's one idea: become a kidult toy influencer.
Duane Shoots Toys is an Instagram account that highlights different toys and movies. You'll see the Ninja Turtles on there, wrestling figures like the Rock, and even horror movie memorabila (like Freddie Kruger figures).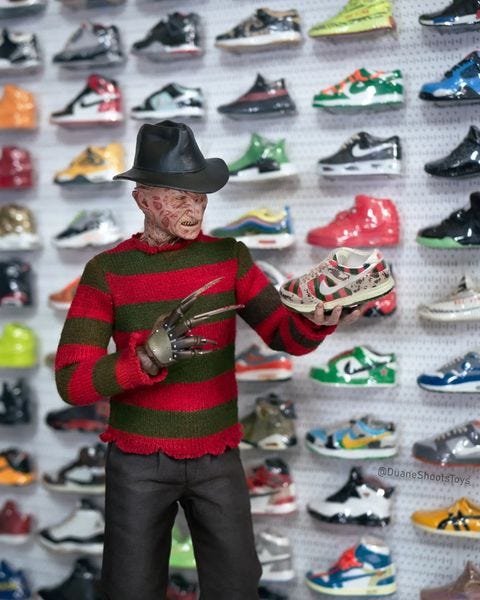 You can easily partner with toy makers - and become an affiliate for them. Or, you could find the toys on Amazon and offer them that way.
As you build a following, sponsorship opportunities will likely surface for your Instagram, Tiktok, or YouTube account.
---
This Week's Growth Tip
I'm going to go out on a limb and say that 2023 will be the year of connection.
We've hid behind our computer screens in many ways since March 2020. Now, it's time to go out there and connect with other human beings - online and offline.
If you go with a local side hustle that is fully offline - or even fully online - it's going to come down to the most basic growth hack - networking.
Yes, I know this is simplistic. But, hear me out.
If you're in a small town, networking can 10X your returns very quickly. Making those connections offline - without a phone in hand to distract you - will set you apart.
Now, you can certainly take a hybrid approach here and I recommend you do. I was reading this article about building an affiliate program as I was researching different growth tips.
It mentions the concept of recognition. That means showcasing others' businessess and dropping mentions of them in your work. The author did this with local businesses and they loved being mentioned. It meant a lot to them and they shared it!
When I started a local website project a few years ago, I took the same approach. I wanted to highlight local companies - pizza shops, restaurants, hair salons, craft stores, etc. - to help drive content and engagement. It worked and people loved it. One of the pizza shop owners and I even became friends out of the deal.
That's all I have for today. I appreciate you checking it out.
Will you do me a favor and share this with your friends and family who might benefit?
---
If you want help getting started with these ideas or others, here's a few ways I can help.
Book a FREE 30-minute introductory call. We can have a chat about what side hustle you want to start and how to begin. I'll give you some direction on best resources and how to make progress faster. Email me at dave[at]runthemoney[dot]com if you're interested.

Working smarter, not harder is the name of the game when you're working a side business and a job. That's why I recommend Adrian Shepherd's Uber-Productivity Blueprint.

If you want to learn how to grow your side hustle's brand on Twitter, you need to check out Twitter Affiliate Masterclass. You'll get the blueprint to earning passive income on Twitter.